In the world of indoor IoT solutions, sensors can be used to power many kinds of location-based applications and use cases. These range from wireless device detection and indoor positioning to visitor analytics, asset tracking, and more. This means that sensors can help with:
Creating situational awareness

Improving security

Meeting industry compliance requirements

Understanding how visitors interact with your indoor space

Improving experiences within your building

Improving building operations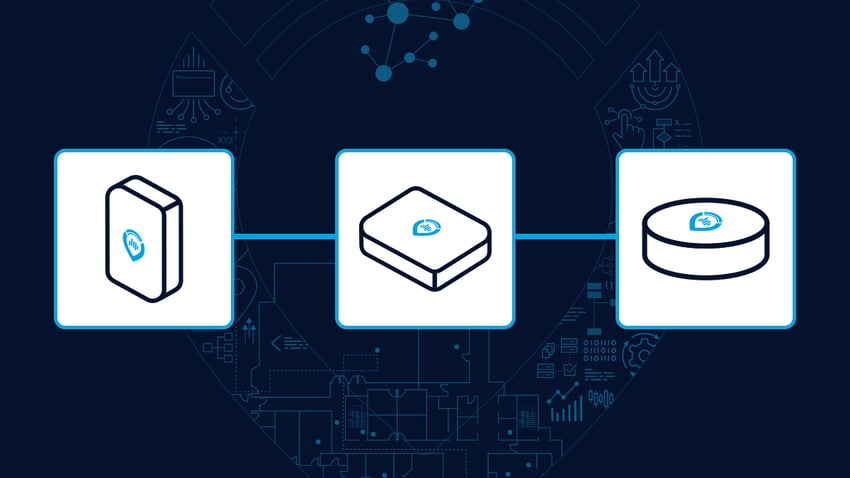 Compromises in IoT security can quickly escalate into serious threats. Organizations should be able to detect all devices that come onto the premises to prevent unauthorized devices before they have a chance to breach a secure zone. Sensor deployments can help with monitoring spaces by flagging known and unknown devices. Inpixon offers a variety of proprietary sensors designed to make your space smarter and safer:
| | | | |
| --- | --- | --- | --- |
| | | | |
| Types of Devices Positioned | Wi-Fi | Wi-Fi, BLE/Bluetooth, Cellular | BLE, UWB |
| Location Accuracy | <10 m | <5 m | <1 m |
| Ease of Install | Plug and play | Install and optimize | Install and optimize |
Inpixon Pod
The Inpixon Pod is a Wi-Fi device detection and positioning sensor. It is a specialized Wi-Fi sensor that can expand coverage areas, increase the number of devices detected, and improve positional accuracy compared to using solely your existing Wi-Fi network.
Compact and lightweight, the Inpixon Pod sensor is easy to deploy in your indoor space and can build on existing access points for enhanced device detection and positioning of Wi-Fi devices, both on and off your network. The sensor and your access points (APs) work together to detect transmitting Wi-Fi devices and pinpoint their locations via sensor trilateration. Sensor and AP data is collected by Inpixon's indoor intelligence platform to visualize the presence, location, and movements of Wi-Fi devices, as well as translate the location data into illuminating visitor analytics.
The Inpixon Pod allows organizations to locate more wireless devices by building on existing access points, analyze increasingly accurate and granular data points, and extend device detection into areas your access points don't reach.
The data gathered from the Inpixon Pod can be analyzed and visualized to provide key metrics and reports on an analytics dashboard. These data points can provide insights into things such as visitor counts, visitor type, dwell time, AI forecasting, event, initiative performance, and more.
Inpixon Pod is usually deployed in retail and corporate campuses where a dense number of Wi-Fi consumers traffic and where minimizing deployment cost is more important than high accuracy positioning or number of RF technologies detected.
Advantages:
Dual band Wi-Fi sensing (both 2.4 GHz and 5 GHz)

Powered view PoE or USB power and can be configured with a wired connection or wireless backhaul
Disadvantages:
A position accuracy of under 10 meters, whereas other sensors are accurate to under 1 meter
Inpixon Sensor 4000
Deployed in indoor spaces, the Inpixon Sensor 4000 sensors continuously scan your radio frequency (RF) environment for signals from Wi-Fi, BLE/Bluetooth, and cellular devices. The sensors passively detect the transmitting devices and pinpoint their locations via multi-sensor trilateration. Sensor data can be collected by Inpixon's Indoor Intelligence platform to visualize the presence, location, and movements of devices, as well as identify rogue or unauthorized devices in secure zones.
The Inpixon Sensor 4000 detects and locates many of the wireless devices found throughout indoor spaces to give you a clear picture of your transmitting RF environment. The devices can include things such as cell phones, laptops, tablets, wireless speakers, personal health and fitness devices, Wi-Fi access points, beacons, sensors, and more.
When used with our indoor security solution, Inpixon Aware, the Inpixon Sensor 4000 gives organizations visibility into their facilities and a robust wireless intrusion detection solution in a single, live security dashboard, so they can make key decisions around security, risk mitigation and public safety, at scale.
Inpixon Sensor 4000 is deployed mostly in government sites and corporate campuses where maximizing positional accuracy and the breadths of technologies detected are key to gaining situational awareness.
Advantages:
Meet government/industry compliance requirements while enhancing security

Track Wi-Fi, BLE/Bluetooth, and cellular devices without requiring network connectivity or an app

Can deliver more accurate, reliable, and faster indoor location results than single RF standard positioning or proximity solutions
Disadvantages:
Multi-spectrum cellular sensing increases sensor size, cost, and power consumption

Passive RF sensing trades high accuracy, active positioning (as in Inpixon Sensor Ultra) for a quiet RF environment and improved RF security
Inpixon Sensor Ultra
The Inpixon Sensor Ultra is an ultra-wideband (UWB) asset tracking and real-time location system (RTLS).
Discreetly deployed into indoor spaces, the Inpixon Sensor Ultra sensors employ UWB technology to detect your UWB-tagged assets and enable centimeter-level positioning accuracy. The sensors combine active UWB technology with passive BLE scanning to monitor a breadth of devices, tags, and beacons in your radio frequency (RF) environment. Sensor data is ingested by Inpixon's indoor intelligence platform to visualize the presence, location, and movements of assets, personnel, and devices.
With focus on today's IoT environment, Inpixon Sensor Ultra senses the most prominently seen and unseen indoor devices while reducing size, cost and power consumption when compared with cellular monitoring solutions. Achieve flexible deployment planning with the sensor's compact design, support for multiple backhaul options (line and wireless), and support for both USB-based and power-over-ethernet (PoE) technologies.
Inpixon Sensor Ultra is targeted for automation, mining, and manufacturing facilities where high accuracy positioning is needed for asset and personnel management.
Advantages:
Compact and flexible design

Detect UWB asset and personnel tags down to centimeter-level accuracy

Passively scan for BLE/Bluetooth devices
Disadvantages:
Cellular signal not detected
By partnering with Inpixon, organizations can implement indoor location technology for a multitude of use cases. Our multi-technology approach gives companies options, depending on what types of devices they are looking to detect, as well as what level of accuracy is required. Our sensors are created with high grade components and are built to deliver unparalleled positional accuracy and reliable, secure, and quick indoor location results. Our sensors also come with flexible power and communications options and are intuitively designed to discreetly deploy into your indoor spaces.
Schedule a 20-minute meeting with our sales team to discover how our sensors can take your organization to the next level.