Inpixon is a global leader in indoor intelligence and location awareness solutions for enterprises. We're also proud of the many female leaders on our teams and the positive impact they've made on our people and products. In this feature, we sat down with Inpixonites Sonam Sodani and Vimala Devi Nallam on their journey as women in engineering at our organization.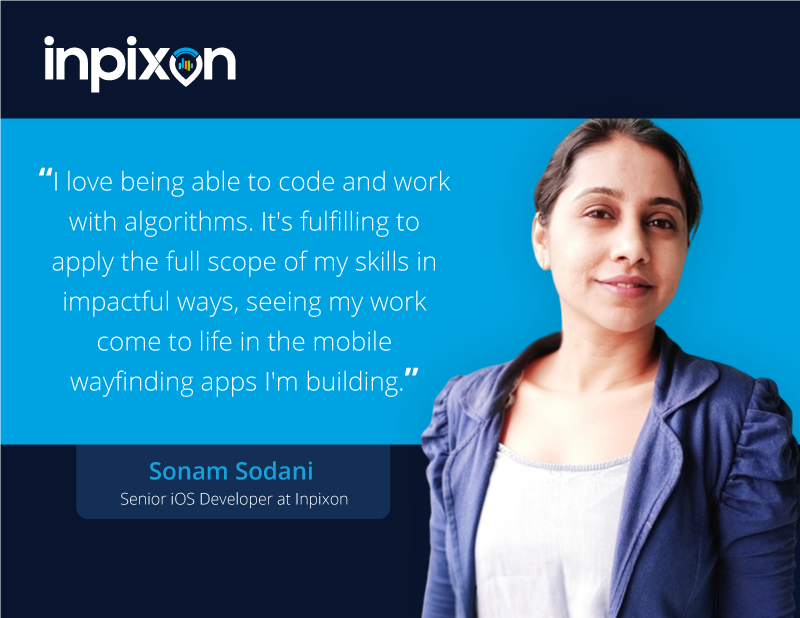 Tell us about the exciting projects you're working on at Inpixon!
It has been a learning curve with new technical challenges as I've adapted my thinking from customer service or end user applications to mobile apps for global B2B clients. We build products that draw on mapping tools, indoor user intelligence, analytics, and AI to guide the user while providing vast amounts of data and information to our clients. The Internet of Things (IoT) is a great technology to work on, and Inpixon is a fantastic place to get your hands on cutting-edge technologies, to see these tools being built, and become a part of creating the solutions.
Can you describe your role at Inpixon as an engineer and your growth here?
As a Senior iOS Developer, I build mobile applications for use in the smart office buildings, malls, and campuses that have purchased our indoor mapping systems. I use the latest technology for Apple's iOS apps, including the programming languages Xcode, Swift and Objective C.
I've already expanded my approach to coding and building apps in my time here. I now look at the bigger picture: scalability, availability, and resiliency. I've learned the importance of building frameworks, gained exposure to web development and Android development, and evolved my soft skills by working in collaboration with internal teams to deliver to our clients.
Overall, I love being able to code and work with algorithms. It's fulfilling to apply the full scope of my skills in impactful ways, seeing my work come to life in the mobile wayfinding apps I'm building.
What real-world problems does Inpixon's technology solve?
The work we do here is based very much in the real world, from hybrid office models and events, to navigating complex corporate campuses, and our applications in the industrial sector. Our products make life easier, faster, safer, and more efficient. Our tools make indoor spaces safer, facilitate the movement of goods from one area to another, help reduce theft, and increase cyber security.
What advice would you give to female engineers considering Inpixon?
Inpixon really provides a platform to grow your technical skills, while also accommodating a perfect work-life balance. The colleagues and managers here are supportive and helpful. Everyone in the company truly follows its core values (Together is Better, We Got This, Courageous is Contagious and Balance to Scale) and this makes Inpixon a lively and exciting place to work in.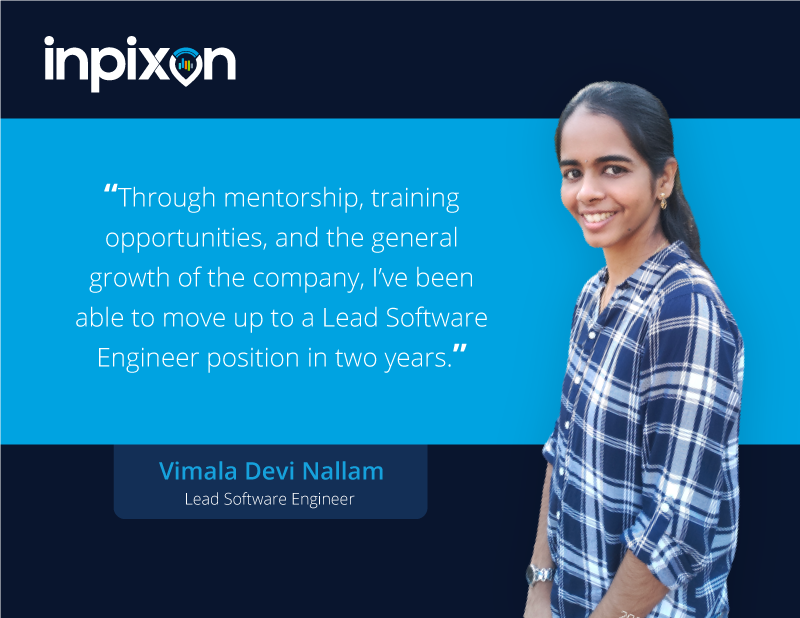 Tell us about your Inpixon journey!
I joined Inpixon as a Front End Engineer in 2020. Through mentorship, training opportunities, and the general growth of the company, I've been able to move up to a Lead Software Engineer position in two years. I've gained exposure to new technologies, including Vuejs and Node js. I also have access to Sonarqube for automatic reviews that enables all of us to improve our code quality.
Can you describe your role at Inpixon as an engineer?
We are currently working on an upcoming product using MongoDB, Nodejs, and Python as well JSON Beautifier to format, validate, and convert JSON data, to XML or CSV. The functionality we are coding will be used to book rooms and desks using sensors, among many other functions.
What do you like about working at Inpixon?
We are a very collaborative team and the company prioritizes work-life balance. Working as an engineer was a very stressful job for me, previously. At Inpixon, we have excellent benefits and vacation time. I have managers that understand the demands we face, help us feel calm under pressure, and bring everyone together on Fridays for global engineering team meetings. We play games, chat, and have virtual lunches together too.
Special thanks to Sonam and Vimala for sharing their Inpixon journey with us!
Interested in joining the Inpixon Team? Explore our open roles today.