Warehouse tasks such as scanning barcodes, searching for free storage spaces, and picking are time-consuming and prone to human error. In most cases, these warehouse activities are not yet based on system-supported information but on handouts, Excel lists, or even WhatsApp messages.
It is not uncommon that IT infrastructure and digitization solutions do not find their way in as quickly as the rapid growth of a company would usually demand in order to optimize processes and make them efficient. Read our success story with TB-International, a customer that, despite strong growth, managed to take the first steps towards transformation into a smart warehouse.
The usual processes of goods receipt, storage, and goods shipping usually include goods receipt posting, goods inspection, repackaging, sorting, storage, picking, and more. In most cases, incoming and outgoing goods must be identified and accounted for using barcodes. Especially in rack aisles and on palletized goods, it is often necessary to get off the forklift in order to scan cardboard boxes and packaging units individually. Another time-consuming task that should not be underestimated is finding and approaching a suitable storage location unless this is specified systematically, for example, by a forklift terminal.
This is where Inpixon's INTRANAV smart warehouse solution comes into play. For the optimization of incoming goods processes, the first step is to eliminate the barcode scans that are necessary for the receipt of goods by means of auto-ID technologies.
How Does Scannerless Tracking Work Using Modern Auto-ID Technologies?
Auto-ID stands for automatic identification and means that a sensor automatically recognizes the item data or goods identification in combination with data interfaces. Usually, this is done by using RFID technology or smart cams.
How do these two approaches differ? As in our RFID success story, the supplier applies RFID labels to the cartons or packaging units. This does not require much effort, as the barcode labels already in use are replaced by labels with integrated RFID chips. The handling for the supplier remains very simple, since only the print medium of the label changes. The information printed on the label has not changed.
With Smart-CAM Auto-ID technologies, a very compact, intelligent camera is attached to a gate or directly to the forklift truck, for example, which recognizes various barcodes and markings on the goods through a large viewing angle and high resolution. With the help of modern machine learning algorithms, these smart CAMs can recognize, assign, and identify the goods. It is recommended to follow this approach if the use of RFID technologies is not feasible.
Optimizing Transport & Storage Process After Goods Are Automatically Recognized
By the automatic identification of the goods in the receipt of the goods by means of RFID or optical Auto-ID technologies, the INTRANAV.IO software module "Smart Warehouse" now knows that these goods are ready at the corresponding goods receipt location. As already described in the problem definition, inefficiencies arise from the fact that, for example, no systemic allocation of warehouse tasks takes place, i.e., no one tells the warehouse employee that pallets are ready for storage at a certain location and that these must be stored in the corresponding storage bins.
The INTRANAV Smart Warehouse software introduces this system by means of intelligent transport task pooling and management, creates automatic tasks, and assigns them to the right warehouse employee. The new process is designed in such a way that after the goods have been received, the system automatically checks which storage bins would be suitable for optimal storage. For example, parameters such as ABC categories, weight, size, delivery time, customer, and also internal traffic are also taken into account in the calculation.
The "Smart Warehouse" system now creates a transport job and assigns them to the appropriate driver. The forklift picks up the pallet and with the help of the forklift equipped with Auto-ID technologies, the system recognizes that the correct pallet has been picked up. In any other case, a warning would appear on the forklift tablet.
The system now tells the forklift driver which parking space to approach. It offers the option of specifying a traffic-optimized route for the driver. However, this is usually not necessary since the forklift drivers already take this into account in most cases.
The driver now approaches the corresponding storage location with the identified goods. It does not matter whether this is a block storage location or a high-bay storage location. With the help of modern positioning technologies on the forklift truck, it is possible to position the vehicle with centimeter accuracy.
Here we distinguish the smart warehouse solutions into two different technologies, the RF radio positioning technology, and the laser-based LiDAR positioning technology. Both technologies have different application areas and act as precise indoor GPS. Since normal GPS satellite positioning technologies do not work in the warehouse due to signal shadowing by the warehouse roof.
With the help of this modern IIoT real-time warehouse location technology, it is now reliably detected where the forklift driver places or stores the goods. Here, too, a corresponding message is displayed on the forklift terminal if it is not the correct specified storage location. Manual handling is massively reduced and simplified in this step, as the driver no longer has to get off the vehicle to manually book all goods and packaging units against the storage location using barcodes. The system knows what has been transported and where it has been stored. The driver only needs to concentrate on the correct transport from A to B.
The INTRANAV Smart Warehouse module transmits this information to the ERP or WMS (e.g. SAP WM/EWM or SSI WAMAS) after successful storage and completes the posting or transfer posting to the storage space.
Modern Tracking Technologies Accelerate Throughput Times in Combination with Advanced Software Solutions
Companies with multiple deliveries and shipments per day often scan thousands of times per hour or store several hundred pallets per hour. With the help of smart warehouse solutions from Inpixon, these processes are massively simplified and accelerated. They increase throughput times and reduce put away and inventory errors. The team is systematically supplied with optimal warehouse tasks, and a higher level of planning is achieved.

You can also use the newly generated data to optimize your warehouse strategy and make better decisions.

The scalable expansion of the solution to other processes, such as shipping, is also advantageous. With the help of these solutions and RTLS technologies (Real-Time Location System), you can reduce the manual effort in the outgoing goods process when goods are handed over to the carrier.
Smart Warehouse Solutions Work Hand in Hand as a Complementary Extension to Existing WMS and ERP Products
The INTRANAV smart warehouse solution is a complementary extension to existing inventory management systems such as ERP or WMS products. Through the integration of real-time data and the use of modern RTLS & Auto-ID IoT technologies, a new meta-level is created, which enables automation and optimization. A prerequisite for this is also the interface diversity and the use of open protocols. In this way, digital twins of the storage locations and other relevant objects can be created in order to optimize storage and retrieval processes further and to provide transparency of the material flow.
When Are Laser-Based Location Technologies Used, and When are Radio Location Systems Suitable?
Since there are different types of warehouses to store and manage goods, they are also structured completely differently, such as the high-bay warehouse and the block warehouse. A smart warehouse solution can be implemented in both types of warehouses, but due to the infrastructure, they require different positioning technologies such as LiDAR or radio positioning technologies.
The RTLS infrastructure for an INTRANAV smart warehouse solution includes, on the one hand, equipping the forklift fleet with an IoT sensor system to locate the position of the forklift in real time and the data processing of the RFID readers or optical sensors. However, this depends on the type of warehouse. Generally, LiDAR-based systems are used for high-bay and block storage scenarios because they do not rely on infrastructure, as is the case with radio location systems, for example.
Radio-based location systems require at least four or more anchor NODEs (RTLS access points) to be installed in a high-bay warehouse. Considering the cabling of this infrastructure and the number of rack aisles, this can quickly become unattractive. That's why people are turning to infrastructure-free technologies like LiDAR. If loading equipment, load carriers, or racks have to be located in the warehouse or shipping area in order to reduce search times, it is advisable to combine this with an efficient radio location system based on ultra-wideband (UWB), wirepas massive or chirp (CSS) technology.
Real-time positioning technologies and IoT sensors are now commodity products and are already very cost-effective to purchase. The implementation of these technologies is highly scalable and available for cloud and local computing systems.
The other part of this solution is the INTRANAV Smart Warehouse software module, which covers several different tasks, including, for example, an overview of expected container deliveries and contents, real-time tracking of pallet loading progress, an overview of transport orders in the warehouse, navigator for the forklift driver, and more.
Up to 40% Increase in Productivity at Our Customer's Shelf Warehouse
With the INTRANAV smart Warehouse solution based on RFID, UWB and ultrasonic technology in combination with the INTRANAV platform module "Smart Warehouse", our customer TBInt improves throughput times and increases the productivity of processes in the warehouse by 40%. This concerns all processes of goods identification as well as storage and retrieval of goods.
WEBINAR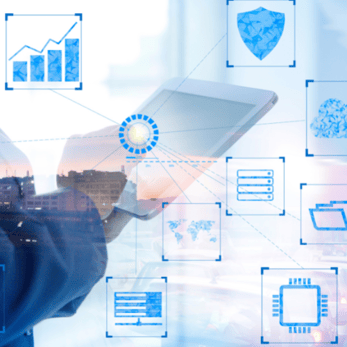 Creating an Intelligent Warehouse with Inpixon & SAP EWM

Explore how to harness locational intelligence to make supply chains more resilient.