Smart warehouses and factories are rapidly becoming the norm in the modern business world, and it's easy to see why. These facilities are equipped with advanced sensor infrastructure, mobile robots, AI, and software that allow them to run more efficiently and autonomously. Predictions suggest that this trend will only continue to grow in popularity.
By using advanced technology to streamline and automate their operations, these facilities are able to increase efficiency, reduce costs, and improve the overall customer experience.
So what can we expect from smart warehouses and factories in 2023? Here are our predictions:
Quick Commerce Speeds Up - Solutions for Efficient Processes and Faster Delivery Times
In 2023, quick commerce becomes an expectation as opposed to convenience. In today's world, many customers, both B2B and B2C, expect to be able to place an order online and receive their products within a few days, if not hours. Companies that are unable to meet these expectations may struggle to satisfy their customers. As a result, businesses need to be quick and efficient when it comes to producing and delivering goods. This is a growing expectation, even in the face of global supply chain challenges and product shortages.
INTRANAV, an Inpixon company, offers innovative solutions to ensure supply chain visibility both outside and within the building, and to provide the intelligence that enables automation and data-savvy decision making. This is achieved by using IoT software, a real-time location system (RTLS), and technologies such as LiDAR, UWB and RFID.
By automating warehouse tasks such as scanning barcodes and finding free storage spaces, errors can be avoided and time can be saved. INTRANAV does this by using auto-ID technologies such as RFID to automatically recognize and process item data or commodity identifiers. These technologies eliminate manual barcode scanning and simplify the receiving process.
INTRANAV's solutions can also help streamline the process of inbound and outbound goods. With the use of IoT and, for example, LiDAR technology, the availability of free storage spaces can be determined in real-time. In this way, warehouse employees can quickly find the nearest free shelf space and speed up the storage process.
In addition, INTRANAV offers material handling solutions that can help optimize the transport of raw materials and parts within the warehouse and factory. This can be achieved, for example, by attaching location-enabling radio frequency (RF) tags to the materials or their containers. One can also equip forklifts with RFID readers and location technologies, which eliminates the need for the driver to get out of the cab, thus speeding up transport.
The system should be linked to existing systems such as SAP or WMSs to make goods movements and transport processes in the warehouse even more effective.
Full-Stack Vendors Reign
Use of a single technology often won't solve significant problems, nor will siloed, single-dimension solutions. Businesses need multiple technologies and a combination of hardware, software, services and integrations. In 2023, companies will increasingly move away from having numerous vendors that provide pieces and parts of a solution in favor of full-service providers.
This is because full-service providers can offer their customers a complete package. Companies no longer have to manage multiple providers and platforms to get the services they need. This not only saves costs and time but also provides customers with a single point of contact.
Another advantage of full-stack providers like Inpixon is that they are able to closely integrate the various technology layers and components to ensure that the solutions communicate and function smoothly. This is particularly important when it comes to implementing complex systems such as smart factories and warehouses to gain powerful insights from the data collected.
Increase in Automation
Automation in warehousing and production will be of increasing importance in 2023 as it offers extraordinary benefits.
Warehouse and factory automation, including that which leverages industrial IoT systems, increases situational awareness and visibility into processes by aggregating and analyzing data from multiple sources and systems in real time. Location-aware IIoT platforms such as Inpixon's INTRANAV.IO can help control processes, report errors, and reduce downtime.
In many cases, "location" is the catalyst for and enables automation. One of the key features of INTRANAV.IO is the ability to track the locations of goods, industrial trucks, and machines in real-time. This allows companies to monitor the progress of processes and the availability of resources. The platform offers a variety of tools and features that help automate and optimize material flow in the industry. These include, for example, functions for automatic capture and posting of warehouse inventories and goods, controlling shipments, and initiation of workflows through geofencing. (Geofencing is a process in which a virtual border is set up around a specific geographic area to monitor and report the entry or exit of an asset from that area). With INTRANAV.IO, companies can increase productivity and reduce material procurement and management costs.
Automating material handling and transportation processes through, amongst others, RTLS-based systems such as Inpixon's can also help to increase efficiency by minimizing human error and increasing the speed and accuracy of processes. The introduction of robotic technology and collaborative robots (cobots) can also help increase efficiency and safety in warehouses and production. Additionally, predictive analytics can provide clues to future demand fluctuations and determine the optimal routing of material flows and deliveries.
Overall, the increase of automation in warehouses and production will be significant in 2023 to improve efficiency and performance, minimize human error, and increase sustainability.
Further Expansion of Digital Twins
The trend of further expansion of digital twins in intralogistics and manufacturing in 2023 is expected to accelerate. It will be driven by the need to improve asset performance, increase operational efficiency, and avoid unexpected downtime.
Digital twins are computer-based, virtual representations of physical equipment, processes or systems.
Communication between IoT sensors and digital twins makes it possible to improve plant performance and achieve better results. The use of 3D visualization and other technologies makes it possible to visualize scenarios on production floors and identify hazards for workers. Digital twins also help identify and address errors or cumbersome processes and read current data.
The human digital twin, as an extension of the digital twin, makes it possible to create virtual representations of employees and their movements to make processes more efficient and safer. All these factors indicate that digital twins will play an important role in intralogistics and production in 2023.
Sustainable Logistics and Production
Sustainable intralogistics and production will be a significant factor in 2023 as more and more companies look to reduce their environmental footprint and achieve their sustainability goals. This includes, for example, the use of energy-efficient machinery and equipment, the use of environmentally friendly materials, and the elimination of harmful chemicals.
Optimizing transport routes and warehouse processes to reduce CO2 emissions is also an important aspect of sustainable intralogistics. The use of information and communication technologies can also help improve sustainability by increasing the transparency and efficiency of processes.
The trend of sustainable intralogistics and production in 2023 is characterized by the digitalization and automation of warehouse operations. Solutions from Inpixon help contribute to greater delivery accuracy with fewer picking errors and greater inventory security, reducing transportation needs. In addition, fewer production errors and greater inventory reliability lead to fewer returns due to errors, which can contribute to fewer shipments by road.
The industrial Internet of Things (IIoT) allows manufacturers to monitor power consumption and take action to turn industrial systems on or off based on fluctuations in predetermined thresholds. IIoT analytics embedded with artificial intelligence and machine learning can identify bottlenecks that are causing inefficient energy use and provide key insights to field personnel to address them. Enterprise data-driven energy and power management platforms help manufacturers understand and optimize energy consumption by providing visibility and access to real-time data.
The trend of sustainable manufacturing in 2023 will thus focus on the use of technologies such as the IIoT and energy and power management platforms to improve energy efficiency in manufacturing and reduce the carbon footprint.
Ready to Address These Trends?
IoT platforms are crucial to creating smart warehouses and factories and staying competitive in Industry 4.0. By leveraging a platform like INTRANAV.IO, companies can benefit from features such as real-time supply chain and logistics data, location-based process automation, and advanced analytics that were not previously available to them. To learn more about building a smart warehouse, we recommend watching our free on-demand webinar or scheduling a customized demo today.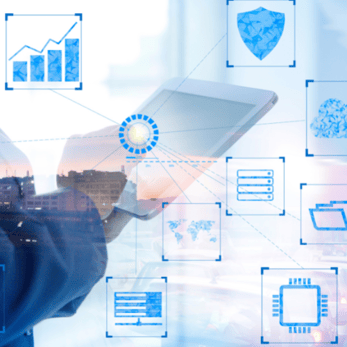 Creating an Intelligent Warehouse with Inpixon & SAP EWM

Explore how to harness locational intelligence to make supply chains more resilient.