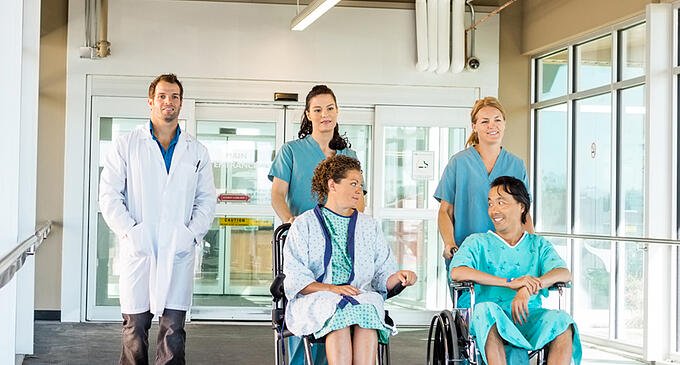 Over the course of the last decade, public spaces have increasingly digitized their assets and implemented interactive wayfinding systems into their facilities to improve customer experiences. From airports and major transportation hubs to innovative corporate campuses and shopping malls, public spaces are increasingly prioritizing indoor navigation. One of the sectors that undoubtedly stands to benefit the most from the advances in location-aware technologies is healthcare.
There is no shortage of technology available to the healthcare sector. However, the systems and tools that are available don't function cohesively or provide the maximum value when they operate as disparate systems. By integrating a hospital's existing technologies - patient flow systems, interactive maps, kiosks, beacons, and digital signage - into a single software platform, hospital administrators can significantly improve both hospital operational efficiencies and the patient experience. Hospitals can also look forward to an additional return on investment from existing technologies when they are integrated and optimized.
Here are three of the ways the convergence of wayfinding and core hospital systems have been making a dramatic difference in the healthcare space:
Helping Patients and Visitors Navigate Complex Spaces
Hospitals are increasingly complex spaces, especially as they are expected to treat growing populations without additional space immediately available to accommodate an influx of patients. Endless hallways, little visual differentiation between treatment quarters, and nearly-identical wings can make patients feel frustrated, confused, and disoriented. Even with basic wayfinding tools in place, patients and visitors often find it difficult to find their way around hospitals.
By using a technology-agnostic indoor mapping platform to put maps into your apps and integrate with your other systems, healthcare providers are better able to provide simple navigation experiences to their patients. The ability to access navigational information from multiple systems, through a single user interface (ie. websites, kiosks, or mobile applications), makes it less stressful for patients and visitors to navigate complex hospitals, and easier for administrators to keep information up-to-date.
Even those who are familiar with a hospital won't necessarily know when their route needs to change. Hospitals are dynamic environments. Sometimes elevators break down while another area may be quarantined or simply closed for maintenance. How do you reroute foot traffic in those cases?
The ability to quickly update your interactive maps, send informational messages based on geofences or proximity, and display closures on indoor mapping systems, from a single software platform to different audience-types, reduces administrative overhead and ensures patients and visitors to the facility never get lost, frustrated, or accidentally put in harm's way.
Improving the Safety of Patients
Using user or persona-driven profiles, maps can display different information that is more relevant to a given user. For example, asset tagging can provide nurses and doctors with real time location information of equipment and high-risk patients. Access to this kind of information can potentially mean the difference between life and death.
In the case of the woman who died in the staircase of a San Francisco hospital, it's quite possible she would have been found alive had she been wearing an RTLS (Real-Time Locating System) bracelet connected to a central mapping system. In cases like this, an administrator could setup geofences within the facility to send out alerts when patients (or other high value assets) go beyond the boundaries set for them.
This example is one of many possibilities that brings new value to existing technology investments when integrated with a centralized wayfinding system.
Increasing Patient Satisfaction Scores
Patients have had access to programs such as ER Wait Watcher to look up average Emergency Room wait times for several years - but imagine the possibilities if users could access this type of information in combination with other real time data?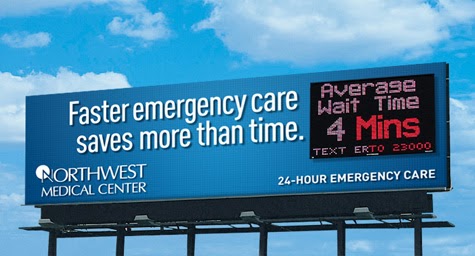 [Image credit: MDG Advertising]
In addition to broadcasting wait times publicly, the data collected through your indoor mapping and wayfinding platform can be delivered to patients based on their needs. Healthcare providers could communicate the average wait time for the day, doctor availability, traffic congestion en route to the facility, and parking options close to the user's most relevant entrance. For health networks, an effective app could manage patient flow by recommending other facilities within the network that are nearby and less congested. This not only improves the patient experience it also helps balance the load across hospital facilities within the hospital network.
To create the best possible patient experience and operate efficiently within your hospital, it is key that the wayfinding platform is interoperable with core data and applications. The platform needs to be an aggregator of your data and deliver relevant messages to patients based on the current variables that could affect their journey and experience. Interoperability is the key to achieving these outcomes in the healthcare technology space. Without cohesion and integration, no system can deliver on all of the IoT use cases that will provide value for healthcare facilities.
Updated January 1, 2019: This post was originally published on November 26th, 2014, and has been updated to provide more information and reflect industry progression.