Inpixonites are made of something special, and Jeannie Ly is the perfect example of someone made of the right stuff! Jeannie is a Front End Developer at Inpixon. Having started as a UI Designer and working her way up in Content Marketing, she eventually moved into a Success Engineering role and is now building code for Inpixon's most recent product. We sat down to ask her about her career journey and what she's learned over the last six years.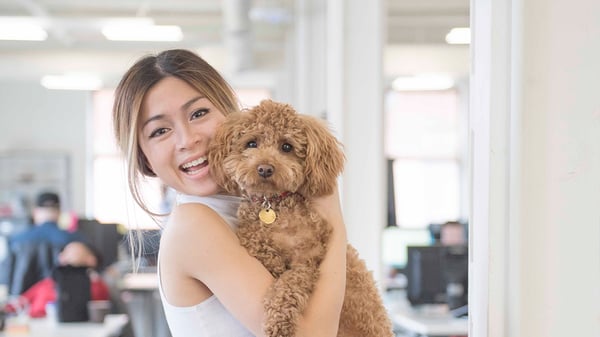 What can you share about your career progression at Inpixon? And what makes the opportunities you've had unique to Inpixon?
I'm currently a Front End Developer working on the Product Integration team.
When I first started, I was part of the success team at Jibestream, which Inpixon acquired in 2019. Jibestream CEO and co-founder and current EVP Revenue Operations at Inpixon Chris Wiegand recommended me for a content marketing team position. Even though we were a smaller company at the time, to have the CEO notice my work and encourage me to develop my skills further was amazing.
I progressed from a Content Marketing Coordinator to Marketing Design Manager in two years. During that time, I combined my understanding of graphic design and visual layouts to create client-facing marketing and sales collateral, eventually moving into website development for our corporate site.
A unique opportunity I've had at Inpixon has been to get to know other managers and contribute work to their teams. I have been involved in interview panels for senior leaders such as Jody Shaffer, VP Marketing. Before joining Greg Saunders' Development team this year, I worked closely with Lesley Browne, VP Success, for a year. Under Lesley's guidance, I grew my client-facing skills further as a Success Engineer.
How did you make the transition from creative contributor and client success to a developer?
As far back as grade school, I would spend my summers building fan sites on GeoCities. As an artist, I never thought that my hobby would grow into a coding career that I love.
Prior to my tenure as a Success Engineer, I chose to pursue a two-week Bootcamp in Front End Development. I do, however, directly attribute, sparking my passion for building solutions for clients to the opportunities Lesley was able to provide.
A considerable advantage of being at a tech company with imaginative and innovative leadership is the chance to see ideas come to life. When the COVID pandemic first took hold, we faced a point where we had to pivot our primary product offering. We changed course quickly to build a solution that would help keep people safe. With that shift came the need to rapidly build a prototype - and a team. I was asked if I would be interested. I want to say I didn't hesitate, but of course, I wasn't confident I had all of the technical skills I needed. Inpixon supported my professional development, and I now play a role on an agile sprint team, committing code.
Why is Inpixon appealing to people?
We are both a mid-sized, global company and a tech scale-up. It's inspiring here for anyone who wants to grow their career, try various roles, and be part of the innovation we are putting forward. There is space to contribute, mentors to learn from, and room to make your mark.
When I was on the Success team, Lesley gave me space and the time to experiment and build small projects on the side to help me in my day-to-day as well as with the bigger picture. Overall, the people here are incredibly accessible, and that's part of our culture - one of cross-pollination, support, and knowledge sharing.
What does a typical day look like for you?
I spend my time researching, building, testing, and working to overcome a blocker. It's professionally and personally rewarding to be able to solve issues directly. As a team, we spend time every day doing peer review, which is vital when creating code for a B2B product. You need to know your code is resilient.
How do you live the Inpixon values?
#BalancetoScale is a new core value and one that speaks well to the personal and professional aspects of work-life. For example, a balance between work and home life means that we are happier in both places, enabling one's work and home life to flourish in the long run. The risk of burning out is eliminated.
How has Inpixon helped you find balance?
I used to be someone who would charge at full speed, and now I can see that means going it alone, which is exhausting. I am grateful for coworkers who have shown me the benefits of slowing down and that working together brings all of us further along. Slowing down sometimes has a negative connotation, but its benefits are more deliberate decisions, more thought-out reasoning, and usually more collaboration because you naturally will bounce ideas off your peers. Not that we work slowly here at all! But it's more a case of pacing yourself and not expending energy in isolation when you can accomplish more together. That's just one example of how we live our core value #TogetherIsBetter
Our company has come a long way from being a young, small, scaling company to part of a bigger organization. Many positives come with that, including the benefits being part of a team has. Our coworkers are here to step up and share the work so that parents can have time with their children; others can take time to get outside for walks in the fresh air. We all have varying schedules, and Inpixon embraces that. The leadership here trusts that they have hired the right people, the talent, and the shared mindset to make great things happen. And that's why another one of our core values is #WeGotThis. It's a group mentality, shared across the organization, no matter where your home base is.
What has been your biggest challenge and your proudest moment at Inpixon?
One of the biggest challenges I've faced has been not knowing something almost every day since I began rebuilding my skill set. I had expertise in art and design, and now I have to work twice as hard to get through my work. But it's a challenge that in and of itself is rewarding.
My proudest moment here would be the collective "aha!" moments when I DO end up unravelling the puzzle and solving the problem that has been blocking me. It's genuinely thrilling to have these moments so often in my role.
What excites you for the future?
I'm excited that six months or a year from now, I will be able to reflect on how far I've come and be truly amazed at what I am capable of. When I think back to a year ago, I could have never imagined I'd be working on the front-end development team, making an impact, and re-factoring an entire application. I can't wait to see what else I've learned!
What Jeannie's managers had to say:
Chris Wiegand
EVP Revenue Operations

Lesley Browne
VP Succes

"Jeannie joined the team in March of 2015 on our map digitization team and since then has re-invented her role multiple times with a transition to marketing, Customer Success, developer implementation support and now engineering.

Not only is she incredibly talented, but she is also a pillar of our culture. Jeannie's curiosity to learn, positivity and collaborative approach are just a few things that make her a Rockstar at Inpixon."

"What's unique about Jeannie's career progression at Inpixon, is that it has been across many functional departments, including professional services, marketing, customer enablement and engineering. With every new role, Jeannie has built upon the knowledge gained in the previous department. This leads to an invaluable 360-view of our customer's experience.

Her genuine curiosity to learn leads to self-driven improvement of her skills and undoubtedly benefits the team and the larger organization. Jeannie's ability to build strong relationships, get-it-done attitude all while having fun, makes her an absolute pleasure to work with."

Jon Barnett
VP Engineering

Jody Shaffer
VP Marketing

"My first introduction to Jeannie was when she was working in Marketing, and helping to develop collateral around the technical aspects of the product. Her interest in software development and her natural aptitude for programming concepts drove her to undertake external courses, and we wanted to encourage her aspirations.

Her progression through technical support for our customers to ownership of implementation projects for customer map kiosks is a great sign of her drive. Her enthusiasm to absorb, learn and own the projects that she works on is what really stands out for me, and look forward to seeing her continuing career journey."

"Jeannie has always produced high-quality material that truly elevated our visual presence. Her ability and willingness to throw herself into whatever came her way (and give each and every assignment her all) is commendable – incredibly accommodating and adaptable. She is highly organized – when she was leading a project, you knew that it would be completed on time.

She has such positive energy and was a pleasure to work with, and when motivated, she found a way to do things (whether that meant doing research or reaching out to others for support). She saw a career path that she wanted to take and went for it (so proud of her!)"
Check out our careers page to discover opportunities to work with smart, creative people like Jeannie!
This blog post contains forward looking statements which are subject to risks and uncertainties. Please click here to learn more.