As we move towards the digital hospital of the future, mobile apps are a key component to enhancing traditional wayfinding technology. We're already using them for almost everything else in our daily lives, and as such we've developed a reliance on them for accurate, real-time information, instructions, and their simplification of our day-to-day actions. We depend on mobile apps to remove friction from our lives. An integral part of an enterprise wayfinding platform, mobile apps have the ability to effectively automate and streamline the overall patient experience.

Mobile Apps Support the Entire Continuum of Care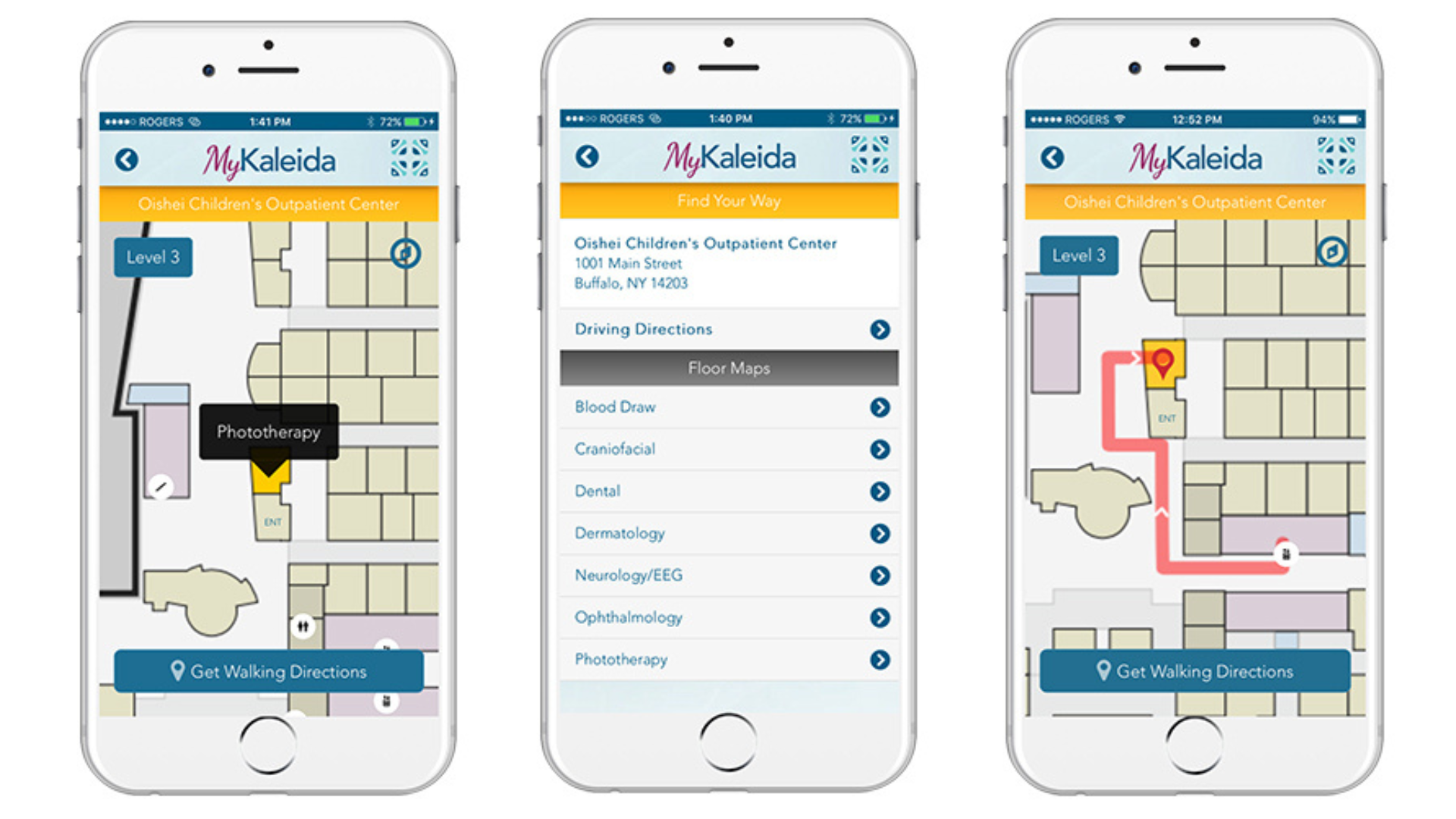 Scheduling Systems & Patient Reservations
From scheduling systems and patient registration, to finding treatment locations and syncing calendars, facilitating payment processes, and so on, there are mobile apps available for almost every function you can think of. It has become far more convenient and less stressful to log into an app, select your purpose and set an appointment than to pick up the phone and sit on hold for a call center agent to handle your requests.
Automated Check-Ins & the Home-to-Hospital Experience
Even the check-in process becomes simpler with mobile apps. Mobile apps can provide an easy home-to-hospital experience by providing directions from a patient's home to the parking spot that's closest to the room they need to be in. Upon entering a hospital – triggered by a geofence – an app automatically registers your arrival. This effectively removes patient wait time from the check-in process.
Personalized Messaging & Indoor Navigation
Users can also get notifications based on their location – including greeting messages or targeted messages based on user patterns and past visits. The app is able to automatically inform your physician of your arrival and guide you through the hospital to your appointment room efficiently. Through indoor navigation and an indoor map, patients and guests can be guided to the exact room they need to be in with the same blue dot and turn-by-turn directions they're used to on apps like Google Maps.
This reduces the stress of reading various signs in large hospitals, having to wait and ask for help or even from speaking a foreign language. At the end of your appointment, you'll be guided to the hospital pharmacy to collect your prescription, and in some cases, straight to your car.
Using Your Personal Device is More Convenient & Healthier
For some people, the comfort of using their own device to quickly get around and get things done is key. Indeed, that's probably the most obvious advantage of using mobile apps throughout the patient experience.
However there's one aspect that is also crucial for many - hygiene. Many people who should be seeking medical assistance avoid going to the hospital for fear of catching something else from another patient. For patients who are uncomfortable using shared devices like touch-screen kiosks, a hospital mobile app is the perfect alternative solution.
The past few years over the pandemic have also resulted in an increasing dependency on the mobile phone, digitizing many processes and removing as many physical touch points as possible. This includes completing COVID questionnaires that ask about symptoms, and the ability to upload negative COVID tests or proof of vaccination on the hospital app.
Bring Your Own Device (BYOD) Reduces Capital Outlay
Investing in traditional wayfinding signage can be costly, not only in respect to the capital outlay, but also the cost of regularly updating signage over time as the hospital transforms.
A hospital wayfinding strategy incorporating mobile apps, digital signage, and interactive kiosks can be more cost-effective while, at the same time, offering patients an option for how they search for points of interest and navigate healthcare facilities. For example, some patients may find kiosks more accessible than mobile applications, preferring larger interactive map displays, printable directions, and easy registration by swiping an identification card.
Mobile devices will appeal to more tech-savvy patients, reducing the cost of implementing wayfinding technologies required to deliver an exceptional patient experience.
Harnessing Mobile Apps for Patient Identification
Positive patient identification (PPID) is crucial to patient safety and the overall patient experience. PPID begins with encoding of individually identifying information on a wristband or tag and affixing it to the patient. Once a patient has been correctly identified, all following actions and related workflows become safer and more efficient. Being able to identify patients with their mobile phone makes the process much easier as it can't be lost like a wristband or tag, and digital documents can be sent directly to the patient.
The overarching value proposition of PPID is the systematic reduction of medical errors, along with the mitigation of potential healthcare and liability issues associated with misidentifying a patient under treatment.

Barry Runyon, VP Analyst, Gartner
The Beryl Institute defines the patient experience as "the sum of all interactions, shaped by an organization's culture, that influence patient perceptions across the continuum of care."
Using a mobile approach, hospitals can have better optimized and coordinated workflows, as well as timely access to patient information, enabling them to create a better health care experience.
Updated June 28th, 2022: This post was originally published on April 17th, 2015 and has been updated to provide more information.