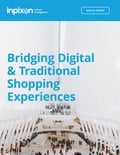 Shopping mall apps are an effective way to bridge the gap between digital and traditional shopping interactions to create a unified retail experience that reduces friction and drives revenue. In this white paper. You'll learn how a fully integrated shopping mall app, leveraging advances in indoor mapping and location-aware technologies to provide indoro navigation, can enhance a shopper's path to purchase and affect incremental visits and drive additional spend at your shopping mall properties.
Download the white paper for details on:
The challenges associated with shopping mall apps
Future proofing physical spaces using technology
How to create an immersive and intuitive experience for shoppers
And more!