By now, we have reached the point in the adoption curve where the benefits of smart building technologies are generally understood, if not widely implemented. At a high level, organizations operating smart buildings benefit from increased energy efficiency, facility optimization, and occupant health and productivity. To date, when we've spoken about the process of making buildings smarter, largely through the lens of retrofitting projects. However, as the market expands and Proof of Concept (POC) projects further indicate the ROI of smarter buildings, we are starting to see more buildings that are built smart from the start, incorporating location technology from the outset.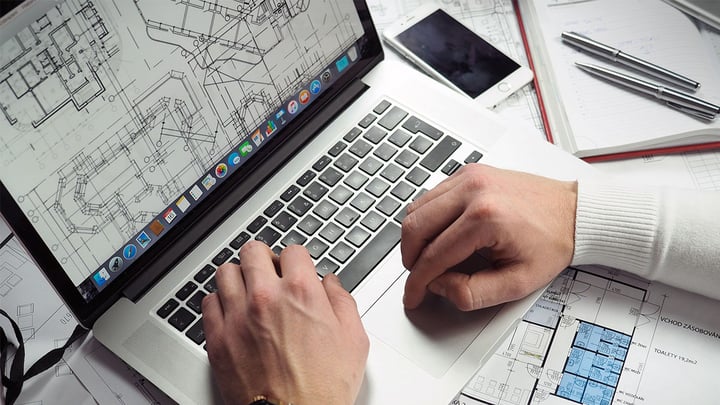 "At their most basic, smart buildings are digitally connected structures that combine optimized building and operational automation with intelligent space management to enhance the user experience, increase productivity, reduce costs, and mitigate physical and cybersecurity risks." - Joann Michalik, Director, US Strategy & Operations leader Deloitte Consulting LLP
Over the last several decades, we've come a long way in terms of getting basic issues and use cases addressed using smart building technology. According to this piece in Building Design & Construction magazine, "by the late 1990s, tools like building information modelling were making built projects a digital extension of the architectural, engineering and fabrication processes, with valuable impacts on downstream operations, such as facilities management." Building on that initial progress, we are now entering a stage beyond automated air conditioning and HVAC systems. We are shifting towards an era of enterprise adoption of connected, intelligent facility technology.
Analysis of facility data from existing structures can guide project teams in optimizing space use. Hospitals, enterprise shopping malls, large corporate campus operators, and large-scale collaborative workspace providers are beginning to collect data from their property portfolios in earnest, and are adjusting their upcoming project parameters to account for the data they now have the ability to analyze and action.
Laying strong foundations is important with any building, and it is no different with smart spaces. When it comes to smart buildings and intelligent facility systems, connectivity and interoperability are absolutely critical to their efficacy and success. There are two especially important keys to ensuring that your deployment is successful and impactful:
It must improve the operational function of the facility

It must enhance the experience and productivity of the people in the building
Both facets are integral to building smart spaces that work.
How to Start Smart
Whether it's for the cost savings or to enhance your experience of place, by installing sensors in buildings from the start - during the initial construction - occupants and organizations can be immediately empowered to enable use cases such as heat mapping for access control and occupancy monitoring, monitoring power consumption at the business unit, floor, or room level, among others.
Before the shovel hits the dirt, architects and design firms must first be able to communicate the value of these systems to their clients. In citing post-occupancy results, they can overcome mental barriers to initial costs, and help clients to understand that an initial investment in smart building technology will result in long term cost savings and efficiencies. It falls to architects, designers and engineers to communicate this value to clients, to avoid lengthy, expensive retrofit projects down the line.
One of the most important initial steps you can take to make the process much smoother is to engage your lighting designers early. Lighting is not only key to the environment and employee experience, but it's also a huge piece of the smart building puzzle, especially when it comes to sensors. For example, Power-over-Ethernet (PoE) LED lighting typically uses 24 volts instead of the usual 177 volts, and connects to a building's network, adding bluetooth and occupancy sensors to collect data and track energy savings. It's important that in the designing process, the lighting designers are consulted early on to be able to assess not only the aesthetic design, but also the optimal spacing of the lights for sensor coverage.
It is also of very high value to ensure that you have digitized indoor maps of the building ready as the building becomes occupiable. By leveraging a robust indoor mapping platform, the data that is collected through the sensors will have spatial context and be more meaningful and actionable. The indoor maps can also be used for applications to support the goals of different business units, and address specific use cases for employees, facilities managers, and security teams, using the same set of indoor maps. Having indoor maps also allows building operators to be the digital landlords of their space, and have control over everything from wayfinding paths to restricted area permissions in real-time.
In all that is designed and deployed, it is recommended that the aim is not only to enable automation, but also allow for personal control at the individual level to make adjustments. For example, while automated air conditioning and temperature control in an office are a great start to facility cost savings, having meeting rooms that adjust to their occupants' preferred temperature after recognizing their ID entering the room can provide a much better user experience and improve occupant comfort levels. These sorts of use cases can be powered by leveraging machine learning and your indoor mapping platform's permission-based profile capabilities.
Data-Driven Outcomes for Large-Scale Facilities
Having immediate access to post-occupancy data following a build is very helpful for a few reasons. For one, these systems and sensors being integrated to support smart space solutions, such as automated room reservation systems and the building's lighting and environmental controls, provides much in the way of cost savings and space utilization benefits for organizations. When buildings are built smart from the start, it generally improves their leasability and overall profitability.
From the design perspective, having access to real, hard data about the way people experience and interact with their built environments is highly valuable for architectural research, and the firms that engage with these kinds of projects can position themselves in proposal stage as being on the cutting edge of smart building design and research. The architects and designers who recognize the gap between traditional builds and the growing need for intelligent spaces, can use this knowledge and leverage indoor maps and location-aware technologies to win commissions through holistic, smart building design.